There's a new theory about what may have happened at a high school party where Christine Blasey Ford says that she was sexually assaulted.
Could the current controversy surrounding the Supreme Court nomination of Bret Kavanaugh be a case of mistaken identity? That's what Ed Whelan is tweeting about. The photos above are fueling speculation that Christine Blasey Ford may be confusing Supreme Court nominee Bret Kavanaugh for Chris Garrett, a former football teammate, friend, and classmate of Kavanaugh's, whose house was reportedly a high school party destination while he, Ford, and Kavanaugh were teenagers. It's also reported to be nearer to the country club where students from Georgetown Prep and Holton-Arms School were known to hang out at the time in question.
Ed Whelan has also tweeted supposed floor plans of Chris Garrett's former residence which he says are consistent with Ford's story: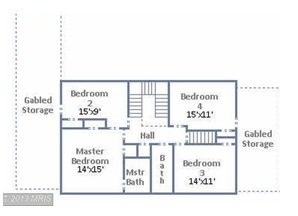 (@EdWhelanEPPC/Twitter)
Proponents of the doppelgänger theory further point out that polygraph examinations like the one which Ford and her lawyer, Debra Katz, say that she passed this summer wouldn't indicate that Ford was lying if she was honestly mistaken about Kavanaugh's identity and that Chris Garrett still appears to communicate with Mark Judge - the other male who Ford said was in the room during the alleged sexual assault. Further, information has surfaced indicating that Kavanaugh spent some summers elsewhere at camp. However, since Ford has not provided the year of the alleged incident, it isn't possible to say for sure if Kavanaugh was in the area or not.
Moreover, to be sure, none of this is to say that Chris Garrett is guilty of any crime. Indeed, if anything, this new information only raises further questions.
Prior to publication, neither Ed Whelan, nor Debra Katz, who is Christine Blasey Ford's lawyer, immediately responded to requests for comment on Ed Whelan's tweets.
Also, FreeMarty was unable to reach Chris Garrett to inquire for comment prior to publication.
UPDATE: After publication Ed Whelan issued the following public apology on Twitter: "I made an appalling and inexcusable mistake of judgment in posting the tweet thread in a way that identified Kavanaugh's Georgetown Prep classmate. I take full responsibility for that mistake, and I deeply apologize for it. I realize that does not undo the mistake."
The author, Marty Gottesfeld, is a political prisoner of the Obama administration. You can learn more and donate to help him at FreeMartyG.com.