Did you know that for practically the entire George W. Bush presidency one of the principal heirs to the large old-money Gorton Seafood fortune was a judge on the highly controversial and now-well-publicized FISA court? If not, might that fact affect your selection the next time that you find yourself shopping in the frozen food aisle?
How about if you knew that this same judge, Nathaniel M. Gorton, sits on the board of a tax-exempt organization that lists itself as an adoption agency and which took in at least $50,000 in donation(s) from Harvard-affiliated Boston Children's Hospital (BCH) after that hospital had grossed an estimated $1 million+ from the government for abducting, crippling, torturing and nearly killing Justina Pelletier? For those who aren't familiar with Justina's heart-breaking story, please see this brief article by Michelle Malkin or this clip from Infowars:
Further, at one point during Justina's long saga here in Boston there was talk about the state putting her up for adoption, as happens in many such medical kidnapping cases, and according to the malpractice and civil rights suit which the Pelletiers filed against BCH in 2016, it was hospital psychiatrist Colleen Ryan who recommended that their parental custody rights be "completely, irrevocably, and permanently terminated" by the Commonwealth of Massachusetts.
And now, ex-FISA Judge Nathaniel Gorton has been presiding over my case in federal court for months even though the "Home for Little Wanderers," which listed him as a member of its board of advisors and received 50 grand from Boston Children's Hospital just five months before I was arrested for defending Justina's life.
I didn't know about Judge Gorton's financial connections to Justina's torturers when he was first assigned to my docket though, and I was actually hopeful about him back then because most people consider him to be the most conservative member of the federal bench in Boston. And that was before Judge Gorton became the first of his colleagues in Boston to refuse to block the implementation of President Trump's travel ban.
But, I had forgotten the old adage that even a broken clock is right twice per day, and that labeling anyone the least liberal out of a group of judges in Boston isn't really saying that much about them. I also ignored other important warning signs emanating from Judge Gorton before circumstances forced me to conclude that he is at best a swamp establishment "conservative" and a troubled jurist.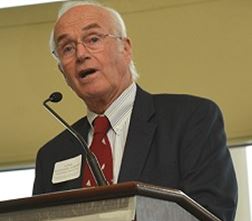 Federal Judge Nathaniel M. Gorton served on the FISA court from 2001-2008 and now presides over my case despite financial connections to BCH. (Massachusetts Federal Bar Association)
For example, for months my lovely and courageous wife Dana had been filing information to alert Judge Gorton to what Harvard-affiliated former federal prosecutor Adam Bookbinder was doing. She docketed Michelle Malkin's article, pictures of Justina both before and after BCH took her off of her meds, as well as documents financially linking Justina's tormenters to Magistrate Judge Marianne D. Bowler, who is the Clinton-appointee who had both approved the bogus search warrant for our home and who had ordered me in prison held without bail. Judge Gorton's only discernable reaction to all this though was to threaten Dana with "sanctions" if she continued filing such information. By doing so he followed suit with Adam Bookbinder who threatened Dana with similar consequences for refusing to take down embarrassing and illuminating court audio from YouTube of FBI agent Jeffrey Williams admitting under oath that he was aware of allegations that Justina had been abused at BCH as well as another place called the Wayside Youth and Family Support Network, but that neither Agent Williams nor anyone he knew in the Bureau had investigated those allegations.
Both BCH and Wayside were explicitly mentioned on the sworn search warrant affidavit for my home signed by FBI Special Agent Michael Tunick, as were "Harvard hospitals," as well as the government's accusation that research had allegedly been interrupted at BCH due to my efforts to save Justina's life. (Justina's original mitochondrial disease doctor as well as lawyers for the Pelletier family both raised concerns that she was being subjected to unethical medical experimentation by BCH.) Then these terms also came up again at my bail hearing — where Magistrate Judge Bowler cut off my attorney in the very first sentence of his closing arguments after she had just let Bookbinder, a Harvard alum himself, speak to his heart's content.
Bowler issued the warrant and granted Bookbinder's request to deny me bail even though she worked as a research assistant at Harvard Medical School before she launched her legal career and she is currently married to one of the school's professors, Marc Pfeffer, who is also a paid practitioner at Harvard-affiliated Brigham and Women's Hospital. It seems clear from these facts alone that she should have recused from my case rather than issue any rulings, but there is even more to this whole mess.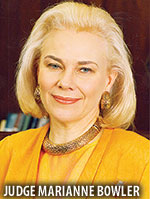 Federal Magistrate Judge Marianne Bowler failed to recuse herself from my case despite multiple readily apparent financial conflicts of interest. (Mass Lawyers Weekly)
As I have now detailed in an open letter to Patti B. Saris, the chief federal judge in Boston (who is also a Harvard grad), Bowler is an emeritus director of the Boston Foundation, a tax-exempt organization that amongst other things raises money for both Wayside and Judge Gorton's Home for Little Wanderers adoption agency.
And that appears to be the key missing piece to this puzzle, providing yet another compelling answer — in addition to BCH's donations to his organization — as to why Judge Gorton, an apparent conservative, would protect Harvard-affiliated BCH and Bowler, who was first appointed to the federal bench by Bill Clinton.
For the record though, neither Gorton nor Bowler are exactly what one would likely consider to be "merit-based hires". It's no secret in the legal community that magistrates such as Bowler often buy their way into power by generously donating to the campaign of the president who nominates them. And for his part, Gorton was elevated to the bench after his brother Slade rode their family's jewel-encrusted swamp boat into a brief stint in the Senate. The quality of their work since hasn't propelled Bowler or Gorton to advance from their initial appointments decades ago.
Specifically, Bowler's habitual abuse of the federal bail process, as outlined in my letter to Chief Judge Saris, would likely make Senate confirmation for promotion to a full judge an uncomfortable and unlikely prospect for her.
And whatever chance Gorton may have had at making the federal appeals court was likely lost with the suicide of Aaron Swartz, the last defendant in Boston who was also accused of selflessly breaking the very same federal anti-hacking law as I am.
Aaron's story is commonly misrepresented, but he was a hero who fought to make public federal court records truly public — which earned him the ire of the FBI and the federal courts themselves as they charged for access to these supposedly "public" records. He also strived to stop an academic organization called JSTOR from profiteering off of taxpayer-funded research. More information about Swartz and his legacy is available in his biopic, "The Internet's Own Boy," on YouTube.
It was Judge Gorton who presided over the Swartz case too and the government is accused of all kinds of dirty shenanigans in that matter as well, which Gorton apparently let pass. After Swartz's death, 61,000 people digitally signed a WhiteHouse.gov petition to then-President Obama demanding that he fire Carmen Ortiz, the head federal prosecutor in Massachusetts at the time. But Obama refused and she served out the rest of her term for all but the last month of his presidency. However, Republicans in both the House and Senate convened oversight hearings and slammed Ortiz in the wake of Swartz's suicide.
Before I knew about Judge Gorton's financial ties, I had hoped that after what happened to Swartz on his watch, he would keep the government on a very short leash and react to its abhorrent behavior with well-called-for moral outrage. But what was I thinking? After all, this is Boston. So maybe I shouldn't have been surprised when Judge Gorton only granted my seriously out-manned and out-gunned court-appointed lawyer half the time and one third of the funding for which he asked to prepare motions and find an expert witness. However, I do hope that wherever you are, you'll remember a thing or two about Gorton's Fisherman the next time you're rummaging through your grocer's freezer.
Gorton's Seafood did not immedeatly return a request for comment to Marty's open letter to Judge Saris. The Home for Little Wanderers stated that Judge Gorton has not been a member of their board or affiliated with The Home for over a decade. However when asked why they still appear on his 2012 financial disclosure forms, they did not respond.
The following journalists for Massachusetts Lawyers Weekly initially expressed interest in publishing my open letter but stopped responding after we sent it to them: Henriette Campagne and Patrick Murphy. Massachusetts Lawyers Weekly is published by Harvard alum Susan Bocamazo.
Marty Gottesfeld is a Republican Senate candidate against incumbent Elizabeth Warren and an Obama-era political prisoner. You can donate to his political campaign at VoteMartyG.com and legal defense fund at FreeMartyG.com. If you'd like to publish Marty's work at your outlet, contact FreeMartyG.