The Lyin' Liberal Liz Warren is at it again.
With less than a month to go before election day, she's joining a growing number of municipalities in her non-native Massachusetts by celebrating Indigenous Peoples' Day instead of Columbus Day: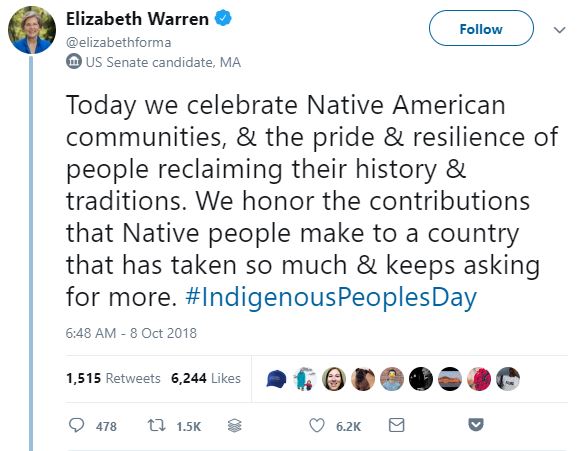 This begs the question, could the Lyin' Liberal possibly do any more to remind voters about her dubious and shameless claim that she descends from Native American ancestry? And will this strategy of hers work?
If you'd like to help answer those questions by pushing back on Senator Warren's shocking hypocrisy, you can sign an online petition here, urging her to provide a DNA sample for analysis.
Indeed, nowadays it seems that the Lyin' Liberal is turning down DNA tests more often than Family Guy's Glenn Quagmire.
So maybe it's time for voters to tell Lyin' Liz that they are sick and tired of hearing her defend her flimsy claim at what seems like the most politically opportune times and places, like earlier this year when she gave a surprise speech before the National Indian Gaming Association unannounced, thereby depriving journalists of a chance to fact-check her on the spot. Maybe it's time to tell Lyin' Liz to put up or shut up and that she should either take a DNA test in a verifiable manner or get out of politics.
And if you'd like to see either of those outcomes, again you can sign that petition here.
The author, Marty Gottesfeld is an Obama-era political prisoner. To learn more about his case or donate to support him, please go to FreeMartyG.com.