What's the difference between Jeff Sessions and Stormy Daniels? Answer: Sessions really did screw the president.
And now—after Sessions cowered in the face of a thinly-veiled coup attempt—he hasn't recused himself from the race for his old U.S. senate seat. This time it would be fabulous, though, for Sessions to step aside. The deep state and its press agents are nearly frothing at the mouth at the prospect that President Trump will have to campaign in The Heart of Dixie with Sessions down the ballot.
The more appropriate time for Sessions to run for his old seat would've been in Alabama's December 12, 2017, special election, in which Democrat Doug Jones bested Roy Moore. Back then, Sessions could've resigned somewhat gracefully as U.S. attorney general. And President Trump could've picked a new AG in time to leash, curb, and clean-up after Robert Mueller before the crazy train known as the "Russian-interference investigation" got so far from the station.
As Moore was being viciously attacked by the establishment via the Washington Post, Alabama and the GOP clearly needed Sessions back home in order to stop an embarrassing Democratic upset and maintain a slim 2-vote majority in the senate. Moreover, the whole nation needed Sessions to subdue the crack-pot Russian-conspiracy theorists and their puppet masters at the DOJ or to step aside for someone more capable. Instead, Sessions's half measures let the DNC elect its first U.S. senator from Alabama in 20 years and perpetrate a traitorous 2-year $25-million coup attempt.
So, if anyone from the Trump administration should be permanently disqualified from high office, it's Jefferson Beauregard Sessions. On his watch, the Clintons and their posse got away scot-free with their shenanigans. It's now been over 18 months since President Trump fired Attorney General Sessions, and we're still cleaning up his mess in the Justice Department.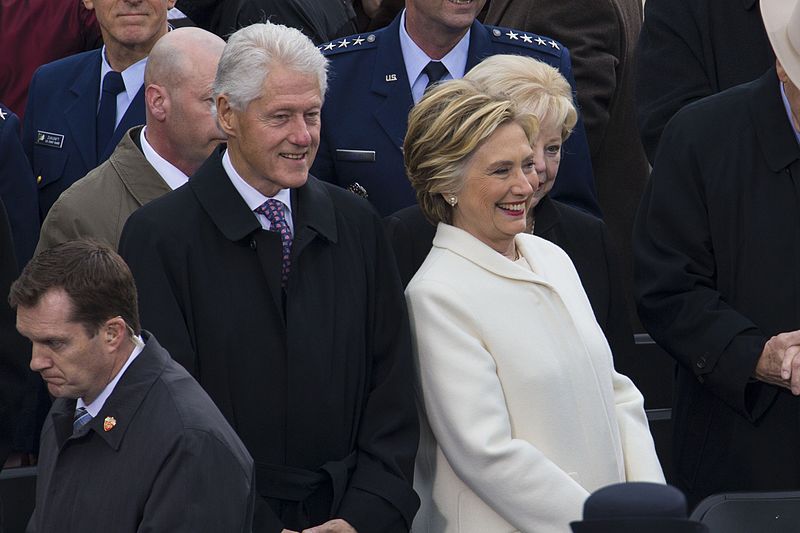 Cackling all the way: Bill and Hillary Clinton may approve of Jeff Sessions's actions and inactions as U.S. attorney general (Public Domain)


Indeed, it's fair to say Sessions is the worst attorney general in U.S. history. Thanks to the drive-by deep-state media mob, however, there was little publicity to expose his most shameful temerities and derelictions of duty.
When the GOP controlled the House in 2017, for example, 20 members of the House Judiciary Committee sent Sessions a letter about Mueller's 1-sided "investigation." They demanded that Sessions hire a second special counsel to investigate Hillary Clinton, Loretta Lynch, and James Comey.
Sessions took no discernable action.
The Keebler Elf of Washington, D.C.—as Sessions is known—might as well have been hiding in his tree house.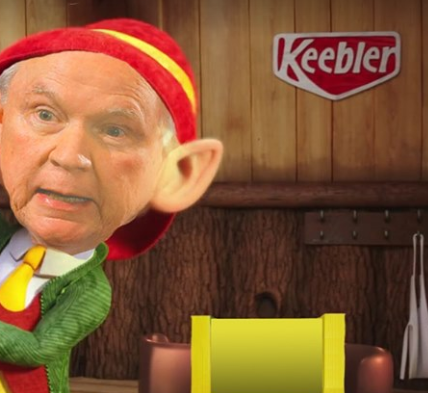 Do Alabamans really want "The Keebler Elf of Washington, D.C." to represent them again in the U.S. senate? (FreeMartyG, CC BY-SA)


The "Russian-interference" hoax then dogged President Trump and the GOP all throughout 2018, with obvious overtones foreshadowing the coming closed-door impeachment charade. Sessions was basically silent and launched no counter-narrative about the rigged 2016 DNC primary, the Steele Dossier, the tarmac meeting between Loretta Lynch and Bill Clinton, FusionGPS, pay-to-play at the Clinton State Department, Comey and Lynch's unvestigation into Hillary's private email server, Hunter Biden's role in Ukraine, the $675,000 that Clinton-ally Terry McAuliffe supposedly "donated" to Andrew McCabe's wife for her failed state senate campaign, the potential hush-money payments to McCabe's subsequent $550,000+ GoFundMe campaign, and the Strzok-Page text messages that implicate Obama.
Perhaps no attorney general ever before inherited so many slam-dunks to investigate. Yet from that gold mine, Sessions secured zero indictments.
One almost has to wonder if Sessions was blackmailed.
In any event though, the Clintons were effectively above the law so long as Sessions remained the attorney general. Other dirty Democrats were untouchable too, it seems.
President Trump, meanwhile, took to Twitter to protest Sessions's inaction. He tried for months, but it was no use.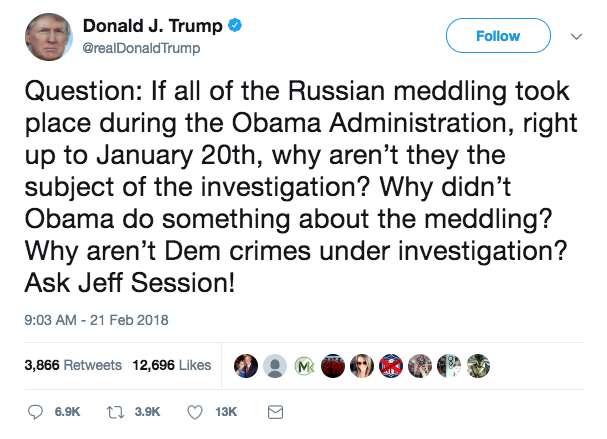 The Democrats, in contrast, faced no such obstruction within their party. During the 2018 midterm elections, they shrewdly took advantage of the Mueller "investigation" and the prospect that a simple majority in the House would give them the sole power of impeachment. Nobody knows how many House seats Sessions cost the GOP and the president's legislative agenda.
We do know that hours after the midterm elections, President Trump fired Sessions.
Once nominated, Attorney General William Barr quickly distinguished himself. He didn't hesitate to state the obvious: the Obama DOJ spied on the Trump campaign for political reasons. Barr then designated U.S. Attorney John Durham to investigate the origins of the whole "Russian-interference" farce.



Such investigations, however, take time. We're now years behind where we could be if Sessions had acted.
Of course, President Trump took a big risk on Sessions too. Nominating him for attorney general was controversial. His confirmation was contentious. President Trump spent considerable political capital seeing it through.
Given what happened, President Trump won't trust Sessions again; he's made that clear. Can you blame him?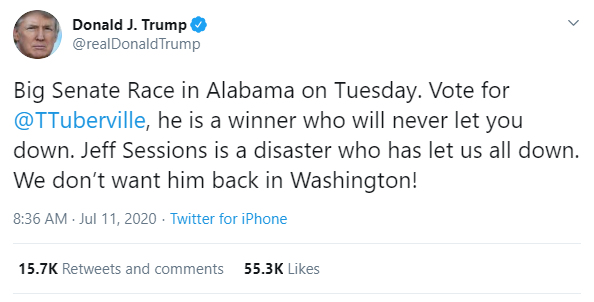 At first though, like many, I believed in Sessions. Indeed, I was elated in late 2016 when I first heard Trump selected him for attorney general.
You see about three and a half years earlier some folks from Harvard-affiliated Boston Children's Hospital and their nanny-state allies in the Commonwealth of Massachusetts crippled and nearly killed a teenage girl named Justina Pelletier. They tortured Justina for 16 months.
Many remember her case from Governor Mike Huckabee's show on Fox:


When her parents tried to speak with their local Fox affiliate, a Massachusetts judge put them under a "gag order," banning them from speaking to journalists.
The Pelletiers went to the FBI and begged special agents to save their little girl. The feds wouldn't touch Harvard's crown-jewel children's hospital as long as Obama—a Harvard alumnus—was in the White House and Eric Holder was attorney general. The Democratic governor of Massachusetts at the time was Chicago native and Harvard alumnus Deval Patrick, who's also a friend of Obama.
Justina seemed doomed.
With time running out, Justina's father risked prison and broke the judge's "gag order." He told Fox News and others Justina's life was in danger.


You can read about how I fought to save Justina's life without harming a soul and how I held Boston Children's Hospital and its Harvard allies accountable during their largest annual online fundraiser. The story was widely reported at National Review by Michelle Malkin, Rolling Stone by David Kushner, The Huffington Post by Ryan Grim, ShadowProof Press by Kevin Gosztola, The Daily Mail by Hannah Parry, Red State by Jim Jimitis, The DailyWire by Aaron Bandler and Frank Camp, The New American by Alex Newman and C. Mitchell Shaw, and The Daily Caller by Ian Miles Cheong and Michael Volpe.
You also might've seen our stories together on NewsmaxTV in a 2-part Michelle Malkin Investigates special report. Or on America with Eric Bolling on TheBlaze/CRTV.
When silencing the Pelletiers under the threat of prison didn't work and Justina didn't suffer quietly enough for Harvard and its Boston Children's Hospital to preserve their precious reputations, the university and its allies in the Obama DOJ tried to convince my jury that my defense of Justina's life risked the lives of others. They failed then too. My jury didn't buy it. (Facts notwithstanding, though, the DOJ's deep-state media mob still ran full steam ahead with the fake-news story that Harvard and Boston Children's Hospital were the victims and not Justina.)
To make a long story short, the university's crooked federal judges railroaded me through a political show trial and sentenced me to 10 years in federal prison for daring to save Justina's life—all on Sessions's watch. They wouldn't let me tell my jurors about the legal principle of the defense of others even though I should have the right to argue that defense. (One of the jurors wanted to nullify, but trial judge Nathaniel M. Gorton bullied her out of it.)
In the same federal courthouse, I was sentenced to more time than Harvard alumnus and Boston Children's Hospital pediatric endocrinologist Richard Keller, whom the feds busted with dozens of DVDs and five hundred high-gloss still images of child pornography in his bedroom}.
How did this happen in America?



When Trump picked Sessions for AG in late 2016, I heard the announcement on the radio. Back then, the Obama administration held me in solitary confinement where Jeffrey Epstein later died, i.e. the infamous 9-South "special-housing unit," or "SHU," of the federal Metropolitan Correctional Center (MCC) New York. I was over a month into a hunger strike that I waged for 100 days to demand that federal law-enforcement take action for Justina and other childhood survivors of similar abuses.
I hoped Sessions would finally help Justina and I achieve some justice for what we'd been through. You see, Justina was targeted over her rare-disease diagnosis by a Dutch-trained neurologist named Jurriaan Peters (who was 7 months or so out of medical training in the U.S.) and a Czechoslovakian-trained psychologist named Simona Bujoreanu (who had a federal grant to study a competing diagnosis that she insisted Justina had instead).
Sessions has a grandchild with a rare disease. I hoped what happened to Justina at Boston Children's Hospital hit close to home for him. Many children in the rare-disease community suffer this horrible abuse. It has a name: medical kidnapping.
After Justina finally went home, 32 U.S. congresspeople co-sponsored Justina's Law, including then-Representative and now-Secretary of State Mike Pompeo. It would've made it more difficult to divert Medicaid dollars to medical kidnappers.
Sadly, Justina's Law never passed.
This is not to say existing federal laws cannot protect these kids. They absolutely can. We just need an attorney general willing to put American children above reputation-obsessed Harvard doctors.
Sessions, however, was no such attorney general.
Early into the Trump administration, a U.S. congressman and a U.S. senator wrote separate letters to Sessions about Justina and me. Sessions didn't respond to either of them. He refused to meet with the congressman.
Michelle Malkin, Rolling Stone, and many others also inquired for comment with Sessions's office. He blew them off too.
A member of the White House legal department was tasked to compose a memo on our cases. Yet I still never heard from Sessions.
Eventually, my wife politely called Sessions at home. He got angry and hung up on her.
At every juncture, Sessions could've helped Justina and me and other kids like his own grandchild. Yet he did nothing.
Justina has now been denied justice at every turn, except when I intervened to save her. Conservatives call me her "guardian hacktavist."
Now, as I'm writing this, I don't know much about Coach Tuberville. But I know enough: He's #NotSessions. And he has my most enthusiastic endorsement.
Wouldn't it be great, after all, if Alabama sent a senator to Washington who finally spearheads some long-overdue accountability for Hillary and Harvard? I hope Alabama does exactly that.
No president should ever go through what the deep state did to Donald Trump and his family. No American child should ever endure what Harvard did to Justina and the Pelletiers, and their family certainly shouldn't be denied justice afterwards.


The 2020 Alabama runoff election for the GOP U.S. senate nomination is July 14th. You can learn how and where to vote here.