If you've been holding off on signing or sharing the WhiteHouse.gov petition to #FireSessions, which is available here, I hope that you'll do so now that President Trump has issued an ultimatum to the DOJ to come clean on what the Obama administration was up to, and if you are a journalist, I hope that you'll cover the petition along with this latest dramatic turn of events.
Yesterday, President Trump tweeted the following pursuant to his authority under Article II of The Constitution, which seems to give the distinct impression that he has had about enough of the scandal-ridden department and its inept leader, Attorney General Jefferson Beauregard Sessions: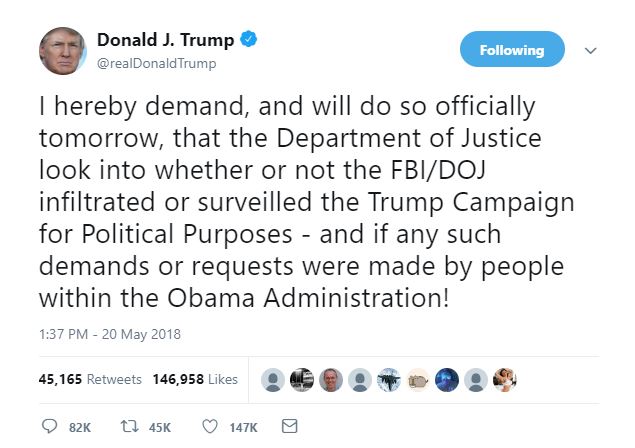 Then later in day the day the Deputy Attorney General Rod Rosenstein issued the following statement:
"If anyone did infiltrate or surveil participants in a presidential campaign for inappropriate purposes, we need to know about it and take appropriate action."
Justice Department spokeswoman Sarah Isgur Flores added:
"The Department has asked the Inspector General to expand the ongoing review of the FISA application process to include determining whether there was any impropriety or political motivation in how the FBI conducted its counterintelligence investigation of persons suspected of involvement with the Russian agents who interfered in the 2016 presidential election." She continued, " As always, the Inspector General will consult with the appropriate U.S. Attorney if there is any evidence of potential criminal conduct."
All of this follows the bombshell revelation that the FBI used former CIA operative Stefan Halper as an informant against the Trump campaign. And while Deputy Attorney General Rod Rosenstein spoke yesterday and Inspector General Michael Horowitz has been the one tasked with investigating, Attorney General Jeff Sessions has been noticeably both absent and silent again.
You can read more about Halper's background here, but suffice to say that he has deep connections to the Bush family, Dick Cheney as well as Donald Rumsfeld, and that he has received around a million dollars from the federal government under previous establishment politicians – the kind who don't like Trump.
According to the Intercept, Halper's disclosures to the DOJ and the Trump campaign pre-date what was previously believed to have been the beginning of the FBI's Russia "investigation."
This new information only adds to the rift between Sessions and Trump as well as his supporters. Indeed, the DOJ under Sessions hasn't charged Hillary Clinton for what we already know about, and it's hard to imagine what investigators would have found in the Clintons' collective closets if they had spent just half the time and money that they've spent grasping at straws to terrorize the Trump administration by raiding a law office based on information from a disgruntled porn star, violating the Constitutional rights of Trump's campaign officials by wiretapping them based on information from the bogus Steele dossier, launching what I can only describe as the Mueller witch hunt given the content of the Strzok-Page texts, etc., etc., etc.
I mean, do we need any more reasons to #FireSessions? He's done nothing but stonewall and if anything, it seems like he's obstructing justice since not 1 single charge has been filed against Clinton, Wasserman-Schultz, etc.
And meanwhile, Mueller runs nearly out of control, Julian Assange remains stuck in an embassy, and there's no justice for Justina Pelletier, who is the person for whom perhaps we most expect to see the DOJ do something now that the new commander-in-chief doesn't owe his allegiances to Snowflake University.
Indeed, General Flynn, Justina, Assange, me, you, our country and its children all deserve far, far better than what Sessions has delivered. The DOJ is doing more for a porn star who is unhappy with a binding contract which she entered than it's doing for the kids, and American justice has turned into some kind of a cross between a circus act and a mafia-style racket.
To fix things, Trump needs political support to get rid of Sessions. The Democrats are quick to cry foul on anything that threatens to reign in their version of the Spanish Inquisition, so a petition packed with signatures would go a long way towards providing the president with a mandate to replace Sessions now, before we get any closer to the midterms. You can sign here and share the petition via email or social media. Please use #FireSessions.
This should never happen again to another kid:
And no one who fights for victims of atrocities should end up relegated to tweeting from an embassy or writing articles from prison.
You can help the author through his unjust incarceration at the hands of crooked federal prosecutors by visiting FreeMartyG.com and donating or following the FreeMartyG social media pages.